Your one-stop webpage for everything to do with this long-awaited day!
It's on Sunday, 8th August 2021
Doors open 12.00 noon
Dancing starts 12.30 pm
Food served until 5.00 pm
Bar closes 9.00 pm
There is no entry fee as such, but donations will be very welcome
Programme for the day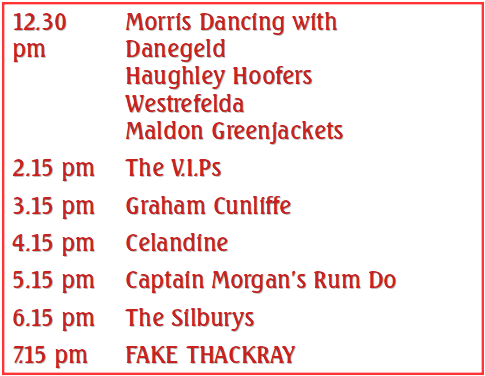 The pub and the organisers are still being very careful about their health precautions. This is the current situation, as outlined by The Steamboat:
With confirmation that COVID 19 restrictions are to end from July 19th we can't wait to welcome you back to The Steamboat for live music and events. Over the coming months there are a few things we'd like your help with to keep our venue as safe and enjoyable as possible for our customers and staff.
Anyone showing symptoms of COVID 19, believed to have been in contact with someone showing symptoms or tested positive, should not enter the venue and follow latest government advice.
If you are attending a gig or event we kindly ask that you take a lateral flow test the morning of the event. Anyone showing a positive result or has come into close contact with someone who has tested positive, should not attend. In the case of positive test results and pre paid tickets have been purchased, please contact us before doors open for the event with proof of why you can't attend and we will fully refund the cost of the ticket.
Our staff will continue to wear face coverings until further notice. Although not mandatory, we encourage customers to do so when moving around inside the pub.
Please continue to use the hand sanitiser which is positioned at several places around the pub.
The NHS track & trace posters and our manual sign in sheets will remain in place for anyone wishing to use them.
Bar service has now returned, but bar stools haven't. For the time being please order your drinks at the bar and then find a table.

Thank you for your continued help and understanding in keeping each other safe and The Steamboat open for the return of live music!
Cheers, Andy & crew. X